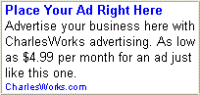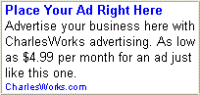 | | | | | |
| --- | --- | --- | --- | --- |
| | | [Advertising Here] [Books] [Cables] [Combo Boards] [Website Creation] [CharlesWorks Sites Directory [Floppy Drives] [Hard Drives] [CharlesWorks Homepage] [Keyboards] [Floppy Disks] [Mice & Pointing Devices] [Modems & Phone] [Monitors] [Network Cards] [CharlesWorks Portfolio] [Printers] [Scanners] [Software] [Complete Systems] [Video Adapters] | | |
· Web Hosting · Website Refurbishing · Internet Site Presence Creation ·
· Personal Service · Computer and Website Consultation ·
It's Saturday, April 19, 2014 at 6:39 pm in Peterborough, New Hampshire, USA Guests browsing: 11

CharlesWorks is located in
Peterborough, New Hampshire, USA.
Here is our local time
and outdoors temperature.

Inexpensive used, parts, peripherals, and components for computer systems and equipment:
Used computer parts are also available here. Maybe you want to build a system from scratch. Maybe you have an older system that you need a replacement component for. Or maybe you just want to add to your existing system. We usually stock pre-owned modems, display adapters (sorry, we are out of display adapters at this time) and video monitors, 3½" and 5¼" floppy drives and media (sorry, no 8" drives or media at this time), various sizes and makes of hard disk drives, CD ROM drives, cables, network adapters, keyboards, mice and other pointing devices, printers, scanners, audio cards, and so on!
| | | | | |
| --- | --- | --- | --- | --- |
| | | [Advertising Here] [Books] [Cables] [Combo Boards] [Website Creation] [CharlesWorks Sites Directory [Floppy Drives] [Hard Drives] [CharlesWorks Homepage] [Keyboards] [Floppy Disks] [Mice & Pointing Devices] [Modems & Phone] [Monitors] [Network Cards] [CharlesWorks Portfolio] [Printers] [Scanners] [Software] [Complete Systems] [Video Adapters] | | |
Charles


Owner

Robin


General Manager

Jennifer
Office Admin
Susan
Payroll Manager
It's Saturday, April 19, 2014 at 6:39 pm in Peterborough, New Hampshire, USA There are 12 guests browsing here.
�1998-2014 CharlesWorks, LLC - 16 years serving clients
PO Box 128, Peterborough, New Hampshire 03458
Phone: 603-924-9867 in USA Mon-Fri 9-5 Eastern time

This page accessed from 23.23.67.57
Website hosting for charlesworks.com by CharlesWorks
Updated Sunday, January 05, 2014 at 02:22 pm


pages served