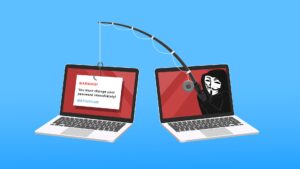 Forgive me if I appear annoyed. Unfortunately, messages like these are quite common. As website developers, we see them far too often. They waste our time. They are based on outright lies.
What bothers me the most is that these messages frighten our web clients into thinking there is an issue with their website. Make sure you see the bottom heading titled "Proving the Lie" in this article!
The Phish/Scam/Spam message itself
I spend a lot of time warning CharlesWorks web clients about scams. I received this message today. The email's subject was Find and Fix those mentioned issues. Here is the body of the phish/scam/spam message in its entirety. I changed the name and state:
---
Hello backup.st Team,
Hope you are doing well!
This is [Their Name] (The Google Search & Online Business Consultant) based in [Some State, USA]. I have audited your website backup.st successfully. Your website needs a complete issue fixing and Google optimization to get more traffic. There are some major errors found on your website. Please have look on the following audit report for your reference.
AUDIT REPORT:
Errors & Issues found on your website:
Meta Title tags – Need to be optimized (very important)

Meta Description- Need to be optimized (very important)

Backlinks: Very Few backlinks. You have a reasonably weak level of backlink activity to this page.

Header Tags: Your page is not making effective use of header tags.

XML site map: Important for Google crawling (Very important)

Image Alt Tags: Need to be fixed

Keyword Consistency: Your page's main keywords are not distributed well across the important HTML tags.

Amount of Content: Your page has a low volume of text content which search engines can interpret as 'thin content'. It has been well researched that higher text content volumes are related to better ranking ability in general.

Social Media: You do not appear to have a strong social presence or level of social activity.
NOTE: These errors/issues should be fixed ASAP.
Your website is getting penalized and kindly consult with your website admin to fix these issues, because all the issues are recommended by Google and other Search engines to be safe.
Google optimization Service includes:
– Issue fixing
– Meta tag correction
– Link Building
– Blog/ Article publish
– Review/ Forum posting
– Social media banner posting
– PDF and image sharing
– B2B listing
– Yellow page ads
– Online ads …………and many more.
We would be happy to send you a quick proposal and plan of action using the top search phrases related to your business. If you are interested, please reply to this email, and we'll send it over.
Regards,
[Their Name] (Internet Marketing Consultant)
---
Proving this is a Lie
The simplest way I can think of to show this message is a complete and utter fabrication is to have to you go to backup.st and see the site this scammer is referring to. You'll see backup.st isn't even an active website. It is a PARKED PAGE. A parked page is just a holder for a domain name pending its use at some time in the future. And it obviously has many, many backlinks (the scammer says there are very few).
What this proves is that this scammer just sends out these boilerplate messages to an email list. The scammer doesn't even check the content on the domain's website. So how does the scammer even know what items might need fixing in this obviously fake AUDIT REPORT if it isn't even a website? Well, obviously, the scammer doesn't. So if you received this at your email address, you might worry about website issues that more than likely don't even exist.
Avoiding the Pitfalls of Dishonest Scammers
We all receive dozens of emails based on (or full of) lies. Repeating a lie dozens of times does not miraculously convert it to a truth. When you decide you want a company or an individual to work on your website, you are entitled to have a relationship with them based upon honesty.
All I can really stress here is don't get caught up by these fraudsters BS. In most cases their goal is to just get your credit card. They usually provide substandard – if any – service. And you will be spammed even more once they know they've reached a working email address!
All this being said, many of the items listed are in fact items connected to good SEO (Search Engine Optimization) practices. SEO is the process of helping your website to be found as an authority on the topic it speaks to. Whether that is a product or informational in nature, there is a complex interaction of factors that all assist in getting your site seen and indexed by the search engines.
If you are interested in finding out more about SEO services we can help you with, please email us at websites@charlesworks.com or call or text us at 603-924-9867 and someone on the CharlesWorks team will be glad to help.