I have been a member of BNI (Business Networkers International) since September of 2004. It has been a great networking organization and I recommend everyone attend at least just to experience a meeting. You've everything to gain by doing so. I often remind people the worst that could happen is they could find some business they wouldn't have otherwise found.
Today's Big Surprise
Well, I was rather surprised today when a package arrived from BNI. I couldn't imagine what it was. Sometimes BNI sends items for members to the chapter leadership team members for distribution to them during meetings. Odd they would send that kind if material to me, since it would normally go to the chapter's president and I am the vice president.
So I am opening up the package, and much to my surprise it was an award! It was apparently an award to me in 2021 for recognition for having sponsored over 40 members into BNI New Hampshire. What a great surprise! I wrote Tim Roberts and thanked him for it and expressed my surprise that it had arrived.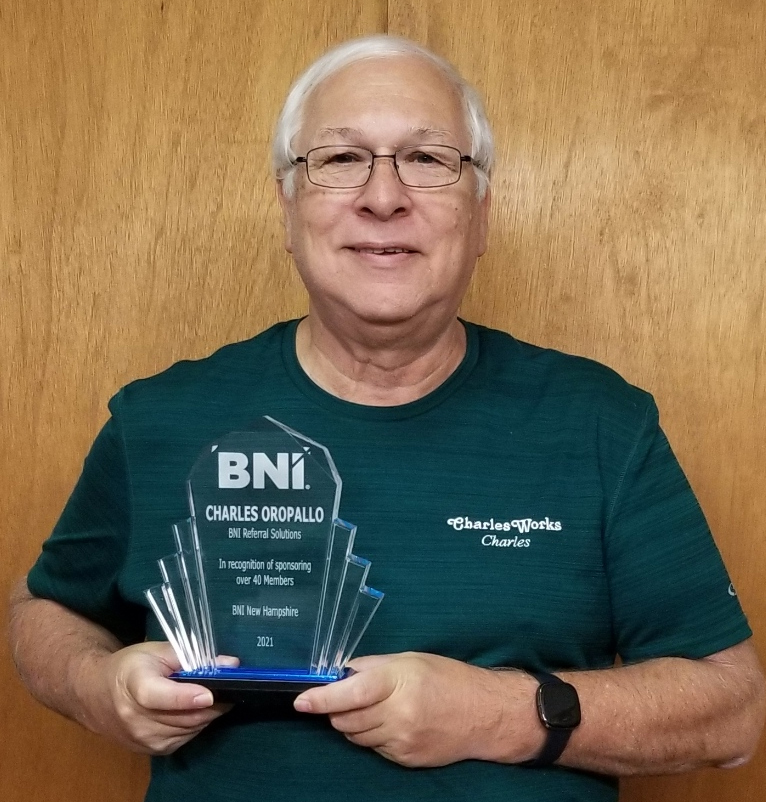 How I Invite
I am often asked how I invite. I even get emails from people in other places who ask me about inviting. Honestly, I find it fairly straightforward since BNI has been the root of the success of CharlesWorks.
I just suggest that the business owner come and check it out.
I'll usually mention that I know a group of business people who would be interested in meeting them. I'll also tell them that the group would love to learn how to send business their way. I tell them they have nothing to lose by attending the meeting. They will get to meet a great group of people. And the worst that can happen is they may get some business they wouldn't have otherwise by attending. I tell them when the meeting is and that I'd really look forward to introducing them to the group.
Sometimes they will ask me if its BNI and tell me they are already familiar with it. I let them know that every BNI chapter has its own "personality" because its all different people and that since they haven't been to my chapter it will be different.
Others may ask me if it costs anything. I tell them that while there are fees involved, it does not cost a penny to attend the meeting and check it out. And then I remind them again that the worst that can happen is they may get some business they wouldn't have had otherwise by attending.
What I am Sure of
What I am absolutely sure of is that anyone can be successful in BNI. I have had many, many people help me be successful in BNI. One of the incredible facets of BNI is being able to learn how to be a better business person through exposure to many other business people.
I'm so sure of this, that CharlesWorks is represented in three BNI chapters in out area. The training that BNI provides to myself and my employees is invaluable. I recommend any company desiring to expand as mine did to think in terms of employee placement in BNI. It is the least expensive training an employer can find for company staff.