Hey folks, Charles here. I've been running CharlesWorks for over 25 years now. And I've seen my fair share of phishing scams and frauds. But let me tell you, the recent surge in phishing attacks is something else. It's like a never-ending wave. And it's hitting everyone – individuals, businesses, you name it.
The New Age of Scammers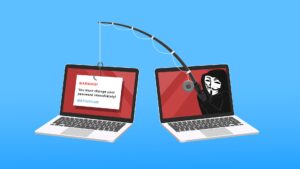 First off, what is phishing? Simply put, it's a type of online scam where fraudsters impersonate legitimate organizations to steal your personal information. They usually do this through emails or text messages. And let me tell you, these scammers are getting craftier by the day. Gone are the days of poorly written emails; now they're using sophisticated techniques to make their scams look legit.
The Texting Trap
Recently, there's been a spike in phishing scams and attacks via text messages. Yep, you heard that right. Scammers are now targeting your phone, and they're doing it in droves. So, how do you deal with this menace? Well, I've got a step-by-step guide for you.
To Report a Phishing Text
Don't Click Anything: Seriously, don't click on any links in the text messages. These links may lead to phishing websites that can steal your personal information.
Forward the text to 7726 (SPAM): This will report the text message to your mobile carrier, which can help block future phishing messages from the same sender.
Report the address to Google Safe Browsing: Visit the Google Safe Browsing website and submit the URL the phishing site wants to send you to. Here's how:
a. Go to Google Safe Browsing: https://safebrowsing.google.com/safebrowsing/report_phish/
b. Enter the URL of the phishing scams site.
c. Select "This page is fraudulent."
d. Click "Send a Report to Google."
Remove the phishing text: If you receive a phishing text, you should delete it immediately to avoid any further interaction with the scammer. With my Samsung android phone on my Verizon service I am able to hold down on the text and one of my choices is to report it as spam, which then deletes it. So I've actually reported it as spam twice: once to Google and once to Verizon.
Report the site to the organization it's impersonating
For example, if it's posing as a bank, notify the bank's fraud department.
Extra Tips for Safety
Be Skeptical: Don't trust unsolicited text messages. Never click on links from unknown senders.
Email Caution: Be wary of emails asking for personal information. They're often phishing attempts.
Check URLs: Before entering personal info, make sure the website's URL looks legit.
Use a Password Manager: This will help protect your accounts if you do fall for a scam.
Enable Two-Factor Authentication: It adds an extra layer of security, making it harder for scammers to get in.
Conclusion: Trust, But Verify
In this digital age, it's easy to get caught up in the convenience of quick clicks and instant communication. But let's not forget the basics of safety. Don't open messages, whether they're emails or texts, unless you're absolutely certain who they're from. It's always better to be safe than sorry. Trust, but verify.
For more detailed information on phishing and suspicious behavior check out this directly from Microsoft:
https://support.microsoft.com/en-us/office/phishing-and-suspicious-behaviour-0d882ea5-eedc-4bed-aebc-079ffa1105a3
CharlesWorks is a Microsoft Partner. If you are not using Microsoft email yet, consider calling or texting us at +1 603-924-9867. Or contact us via our website at https://charlesworks.com/contact/. We are here to help get you hooked up.
Stay safe out there, folks!