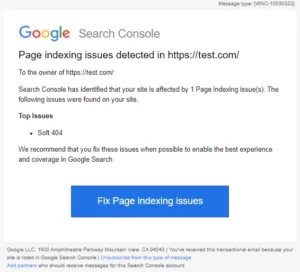 In the course of managing Search Engine Optimization (SEO) in one or more websites, you or your web clients most probably have seen an email from Google containing something along the lines of what looks like what is shown here.
What is a 404 Error?
The infamous 404 error – or its official title "Page Not Found" – is what is generated when a URL (web address) is entered, and a corresponding page is not found on a website. Almost all of these and other errors are logged on the web server. This article will hopefully help you understand one way you can deal with such errors in your WordPress site using the Redirection plugin. My favorite happens to be John Godley's Redirection plugin. We have been installing it in our sites at CharlesWorks for many years now. More detailed information can be found by clicking here about John's plugin. It is readily available through the WordPress repository for installation into your WordPress website. It is a "must have" plugin for any website that traffic is important that has been rebuilt or changed page addresses one or more times since the site was first placed online.
What gets on the Internet is there to stay!
I have come to understand that nothing appears to ever go away from Google and the other search engines on the Internet. Very old links are out there that have not existed for years. This is evidenced by viewing 404 error logs in websites. Not only do Google and its cohorts retain nearly everything, but think about books, periodicals, and many paper and even manufactured products that have web addresses on them. Handling those old or obsolete web addresses can help generate revenue for your company.
With the Redirection plugin installed in your website, looking in the Redirection plugin's dashboard pages in a site gives one access to all the 404 errors that have occurred in that site. It is available from the dashboard at Tools > Redirection > 404s once installed.
Most 404 errors are from bad actors – mostly bots – searching for known software containing security compromises. Don't get alarmed when you see the number of them. Most likely they account for most of the traffic to websites. Others are from people entering direct links containing typos. But some are from legitimate pages that used to exist in a previous version of the website. If these were never added to the redirections when updates to the website were made, they generate 404 errors. A considerable amount of lost business can occur by not handling these properly.
A powerful feature of the redirection plugin is that it allows one the opportunity to implement a redirect for any of its logged 404 errors. All you have to do is click on the 404 error in the log and instruct the plugin to create a redirect for the URL not found. To do this, I recommend opening the website using a different browser. Then, in that browser, search for the page in the website where the information sought can be found. Once found, use that page's URL for the redirection target.
The Even Better News!
The best news I can give you is that John Godley's Redirection plugin has a feature we definitely use here at CharlesWorks: it can automatically create a redirection in the event of you changing the name of a page or post. That makes it less likely that such a page name change would be forgotten. And, it keeps the traffic flowing to where you want it to go.