Remember that these directions are to hook up an account listed as "other" in the types of accounts to add.
For the best instructions, contact the vendor of your particular device, computer, laptop, or software program. They will be able to help you best.
All you need for them is to know the following. They know where this information goes:
The type of account for most mobile devices is "OTHER". It is NOT AOL, GMAIL, EXCHANGE, or anything special. There is most always an "OTHER" choice or one labeled just "EMAIL". Trying one of the other specific ones will not work except with those services.
Your username is your full email address in lower case.
Your password is that assigned to you. It is case sensitive.
Your incoming and outgoing server names are both:
mail.yourdomain.com
You should respond no or bypass any "secure" questions.
Your incoming mail port is 110 if you are using POP or POP3 incoming mail format.
Your incoming mail port is 143 if you are using IMAP or IMAP4.
Your outgoing SMTP port is 587.
Note: On the Win 8 phone there is no separate area to enter the outgoing port so adding the port is accomplished by appending :587 onto the outgoing server name (e.g., mail.yourdomain.com:587).
Your email server requires authentication. It uses the same credentials as your incoming server (i.e., username and password).
We started from this screen, which appeared to be available when selecting the email icon in the Apps area.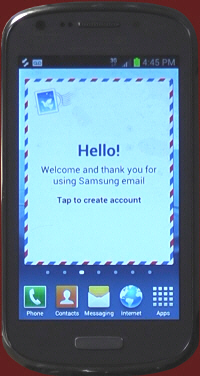 It wants your email address in the form of the entire email address in lower case, then input your password, then touch the Next key.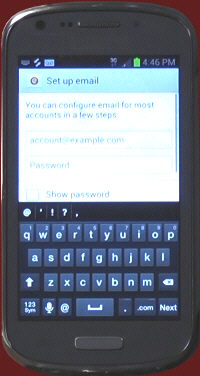 These instructions are for IMAP, which will allow you to deal with whatever folders are already set up on the mail server, so touch IMAP.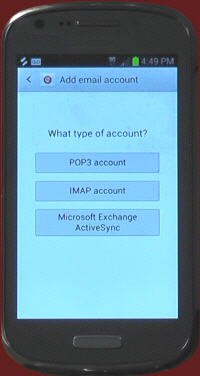 The phone is going out and seeing if it can figure anything out on its own. Perhaps that's why it's called a "smart" phone.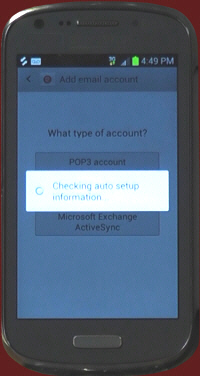 Enter your full email address again in lower case, and your password, then slide the page up and see the next step.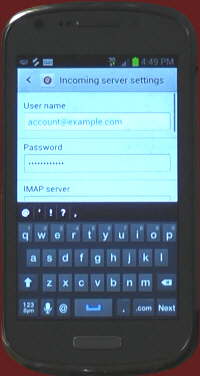 After sliding the page up, enter your mail server. It takes the format mail.example.com where example.com is your own domain name. Keep the Security type at "None".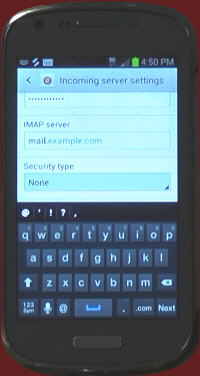 Since this is an IMAP setup, 143 should be in the "Port" box. Leave the IMAP path prefix alone for CharlesWorks servers. Then touch the Next button.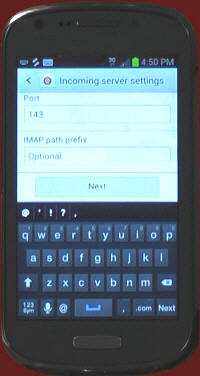 The phone will do a little checking on what you've put in it so far. If it says it can't find the server, you may have typed in something wrong, or you might not have a good Internet or cell phone connection.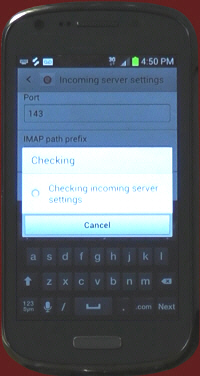 Now enter the outgoing server, which should be identical to the incoming one. Remember that they take the form of mail.example.com where example.com is replaced by your own domain name. Then slide the page up a little.
Note: On the Win 8 phone there is no place to enter the outgoing port as described in the next instruction area, so add the port by appending :587 onto the outgoing server (e.g., mail.example.com:587).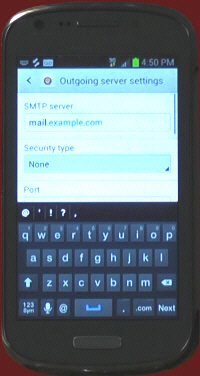 The outgoing port should be set at 587 (not 25 which is the usual default one and may appear there at first). The Require Sign in should be checked (this is the authentication requirement explained in the beginning).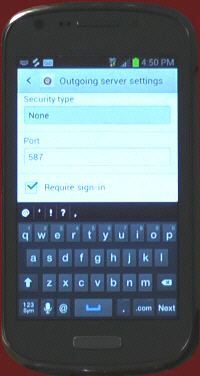 For the authentication, once again enter your full email address in lower case, and then your password. Then touch the "Next" box.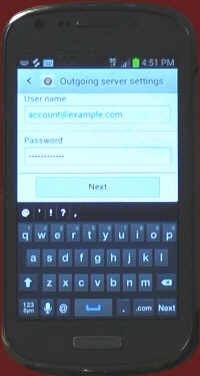 Your "smart" phone is going out and checking out what's been inputted into it.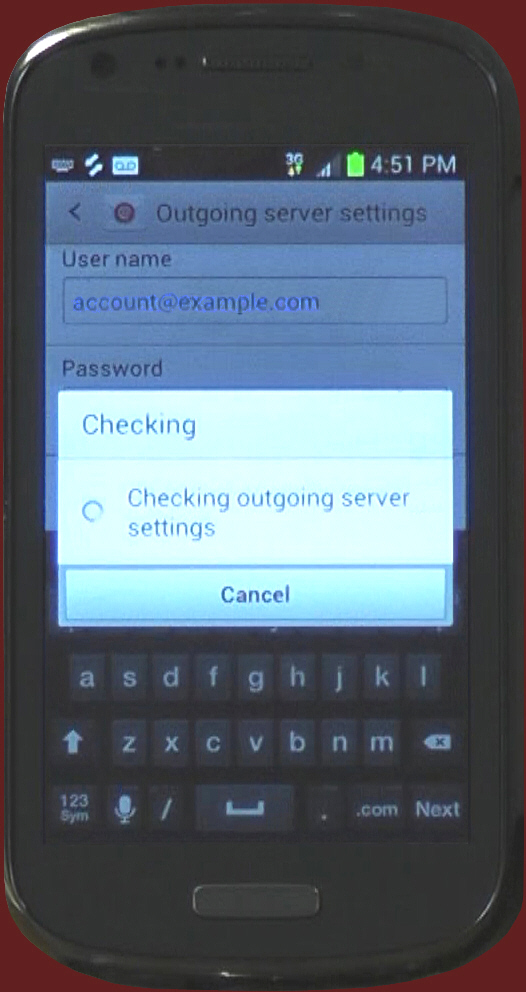 Arriving at this page is pretty good news. You can set your mail check frequency (the more often you check, the more apt you may be to be charged by your wireless carrier for excess usage fees so check with them to see that your plan will cover your expected use). You can Sync email (keeps your phone and the server identical as far as what messages are marked as read, deleted, and so on), and the attachments can be ready for you to view on your phone if you choose to do so. Again, each of these choices affects your wireless use, so be sure to check with your wireless (phone) provider.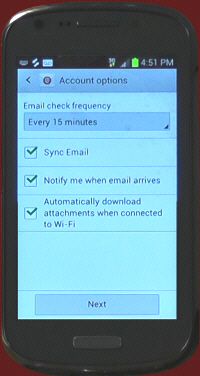 Okay, you've given the phone some stuff to think about. We'll see how "smart" it really is.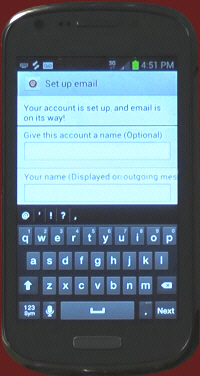 Okay, we're happy campers with this message! The account name is just a label that you can identify this email account with, and can be anything like "Work" or "Personal Stuff" or whatever. Put your name (or whatever you want to be displayed) as from whom a message is when sent.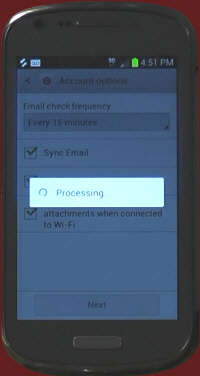 Touch the "Done" button and you should be all set. Remember to ensure you check your plan. They all say "unlimited" but apparently never look in the dictionary to see what that actually means. Check so you don't get bit by your wireless carrier.