About QR Codes
Before I launch into how to create QR codes, let's understand a little about them.
Quick Response Codes, commonly known as QR codes, are two-dimensional barcodes that can store a variety of data types. These include text, URLs, contact information, and more. Originating in Japan in the 1990s for tracking automotive parts, QR codes have since become a powerful tool for marketing, information sharing, and convenience in our digital age.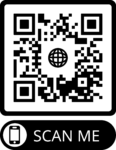 One of the most compelling features of QR codes is their ease of use. A quick scan using a smartphone's camera can instantly direct a user to a website, download an app, or even initiate a phone call. This eliminates the need to manually type out URLs or other data. Using them makes QR codes a speedy bridge between the physical and digital worlds. Businesses often use QR codes on promotional materials, product packaging, and even in email campaigns. QR codes provide a quick and effortless way for customers to interact with their brand.
Types of QR codes
There are two main types of QR codes: Static and Dynamic. Static QR codes are fixed and unchangeable once created, directing the user to a specific URL or data point. Dynamic QR codes, on the other hand, allow for the data to be changed even after the code has been generated. This is particularly useful for tracking user engagement and updating information without having to generate a new code.
And, finally, QR codes are often thought similarly to tiny URLs and shortcuts. However, QR codes and actual tiny URLs and shortcuts are somewhat different. Please check out https://ve.tt and https://cw.st, both pages which address tiny URLs as shortcuts to your web page. These tiny URL services offered on the https://cw.st page are included as part of your website hosting at CharlesWorks. Feel free to contact CharlesWorks at 603-924-9867 to inquire about how to take advantage of these.
Security and Phishing
It's crucial to note that while QR codes offer convenience and efficiency, they are not without security risks. Scanning a malicious QR code can redirect a user to a phishing website or other security threats. Therefore, it's essential to scan codes from trusted sources. That being said, the QR code being used is as safe as the page the user is directed to. Making your own QR code is extremely safe – just as safe as sending someone a link to your page – as long as your destination web page is safe.
How to create QR codes
Below spells out the process of what I did to create QR codes (dynamic or static) at https://www.qr-code-generator.com/, my steps follow.
Log in to your account
To use https://www.qr-code-generator.com/ to create a QR code, you need to have an account with them. If you do not have an account, you can sign up and create free Static QR Codes at https://www.qr-code-generator.com/. I signed up for a free account. Such an account works just fine for once in a while use.
Creating a QR Code
Select the green "Create QR Code" button at the top right of your account.
Choose Dynamic versus Static
You'll need to choose which type of QR Code you want to create. The menu below will show types of dynamic and static QR codes that are available.
Dynamic QR codes bring the user to an intermediary address. That's actually an IP address that is a redirect to the final desired address. These can be used to measure traffic and so forth. This is precisely the services that the https://www.qr-code-generator.com/ offers.
Static QR codes bring the user directly to the address. I like these most of all. They will always work as long as the page they go to exists.
When creating the QR codes at https://www.qr-code-generator.com/ the dynamic QR Codes are shown by default. I found this confusing as I wanted to make a static QR code. This image is an example of the dynamic types of QR codes you can create: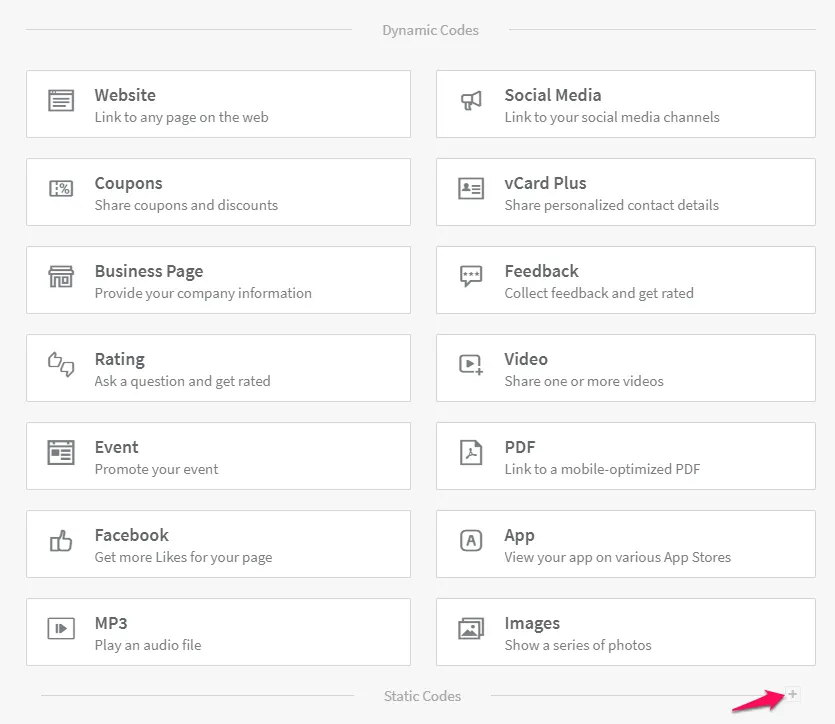 If you want to create a Static QR Code, select the plus button directly across from Static Codes as shown above. This will unfold the different Static QR Codes you can choose from. See the image below: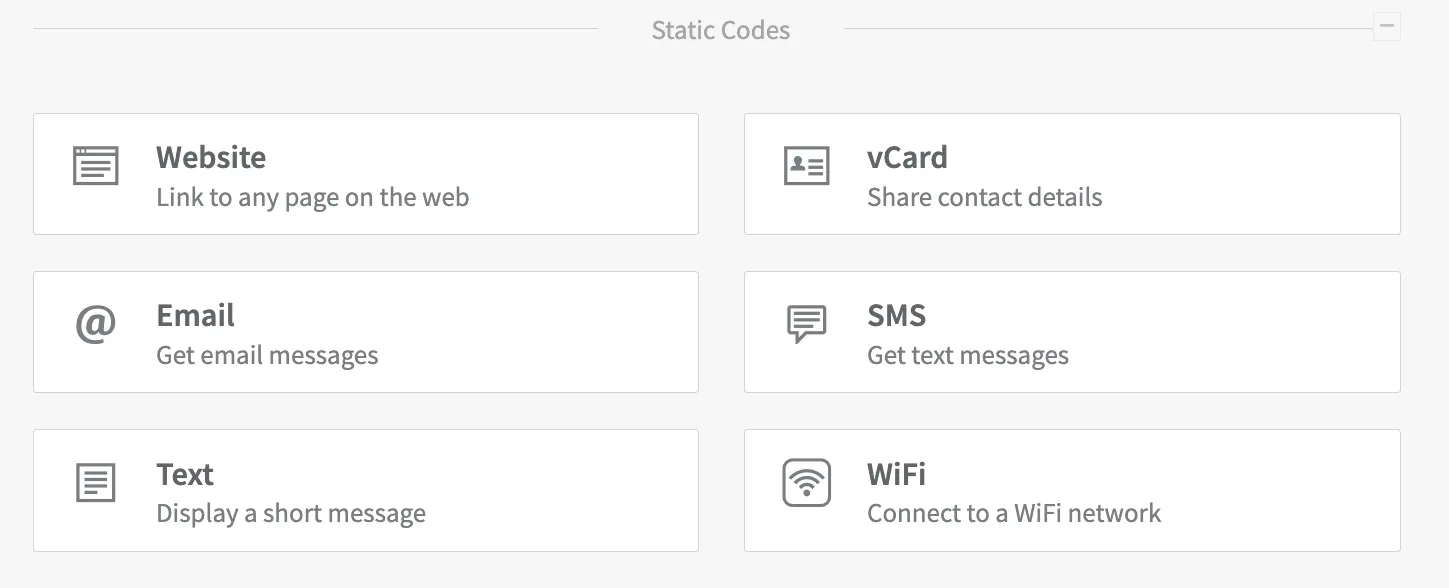 Once you have chosen your QR Code type, just select Next.
Choose Your URL
Now fill in the information for the QR Code and select Next when you are finished. I have created codes that go to a general website as well as codes that go to specific pages on a website. The beauty of the QR code is that it can go to a complex (long) URL. However, remember that once the QR code is created, it can't be changed. It will always direct the user to a specific page. So make sure that page always exists. I like to think of QR codes as being like a business card. Like a business card, they are not changeable. If you get new business cards made and have changed your email or Internet address, people will still have those old ones so you need proper forwarding in place of each. Hopefully that makes sense.
I designed and customized my QR code like the one shown above that actually takes one to my https://cwcorner.com/ site. But if you wish to leave your QR code as is, you can click just the blue X at the top right of the design box to return to your dashboard.
Download the QR Code
The last step in the process is to actually download your newly created QR code. Once you've done that, you can email it to your printer or web developer for implementation.