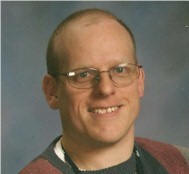 CharlesWorks continues to grow as we welcome a new member to our team. Please welcome Michael Cole of Greenfield! Beyond web technology, Mike's interests include reading novels, singing, watching movies, and spending time with his wife and two sons. He likes to volunteer at Bethel Church in Hancock, NH as a sound technician helping to run the stage sound equipment for the church's worship team and pastor. He also maintains the church's website (http://bethelchurchnh.org) which he designed and developed.
Mike will be providing technical support to our current staff and clients. He has a background in website and database design which will enhance the services we provide here at CharlesWorks.
In addition to his website development background, Mike collaborates with several nonprofit organizations that help address the rehabilitation needs of people with disabilities in the state of New Hampshire.
Mike has been helping people with web technology since 1996. He earned his degree in Communications from Edinboro University of Pennsylvania, and has integrated his communication skills with technology.