Scammers are getting more clever in ways to scare people into providing personal information. Here is a recent example of the type of email you should simply delete:
Subject: WELCOME TO WEB MAIL!!! WE HAVE A PROBLEM WITH YOUR MAIL
From: Web Mail <xyz@rocketmail.com>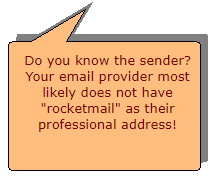 Sent: Dec 27, 2009 10:50:58 AM
Reply-To: xyz@rocketmail.com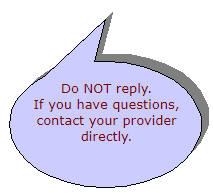 Dear Web mail Internet Customer,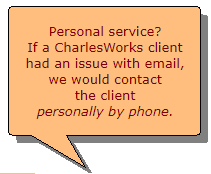 As part of our continuous effort in providing a higher level of service, we are notifying all of our web mail account owners about the congestions due to the anonymous registration of accounts. To solve this problem, we are shutting down some unused accounts within 24 hours.
To avoid shutting down your account, verify and inform us if you still want to use the account by completing the form below with the required information.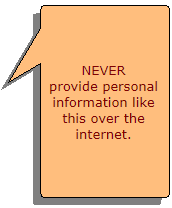 *Username:
*Password:
*Date of Birth:
*Country or Territory:
After following the instructions in the above, your account will not be interrupted and will continue as normal. Thanks for your attention to this request. We apologize for any inconveniences it may cost you.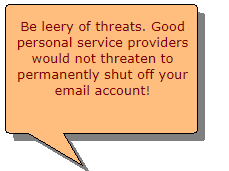 Warning! Account owners that refuse to update his or her account after 5 working days of receiving this warning will lose his or her account permanently.
Thank you for your understanding.
Web mail Online Team
Warning Code: USV64MT1