Say you're going on vacation and won't be able to reply to your emails for a couple weeks – setting up an autoresponder is a good idea – you can write a message that will automatically reply to anyone who sends you an email, for example: "We have received your email. Larry & Linda will be back in the office next Monday, if you have any emergencies please call……"
If your webmail login screen looks like this: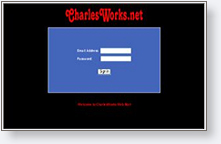 Here's how to set it up:
---
Log in to your webmail account using your username and password.
---
Once you log in to your email account,
click "Options" on the left side of the screen.
---
Click "Mdaemon Settings"
---
Click "My Account"
---
Add your message in the autoresponder box
---