Whether you are running a household or a business, it's easy for your emails to ultimately get out of control. Having plenty of space to store them along with fast access to them can save a lot of time and headaches.

A number of years ago, we at CharlesWorks switched our email over to Microsoft's Hosted Exchange platform. Hosted Exchange is Microsoft email without having to pay for all of the Office apps if you don't need them. As a Microsoft Partner, it is a product that CharlesWorks can provide to its web clients at a very reasonable cost (see Enterprise Email on the Email Services information on our https://charlesworks.com/email-services/ page). Microsoft's Hosted Exchange, arguably the best email system available, provides an extremely fast and robust email system. While the page viewing (and synchronization when using the Outlook application) is only as fast as your Internet connection, it's extremely fast at processing searches when using the included web mail (available at https://portal.office.com/). So, it saves a ton of time when searching through the large amounts of email it allows you to manage.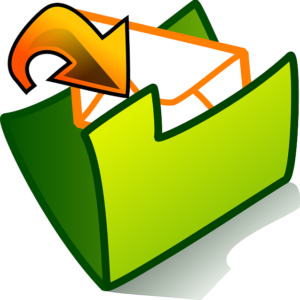 I have always liked the idea of separating items in folders of their own according to various classifications and so on. The search function makes this easy to do. However, I suggest you create the folders you will need first, as it's easier to create a bunch of them one after another.
Sometimes, the biggest hurdle is finding the folder similar emails are in. I have run into that here quite a bit. So, I thought I'd write this short article on how to perform the lookup process in Outlook's web mail. It's pretty simple and works very well.
Here are some sorting email steps you can use
Copy and paste the site name (mywebsite.info in my example case) into the search bar. Note that this can be any item to search for – an email address – a topic – literally any text you are looking for.
Ensure that "All" is selected.
Click on the magnifying glass to start the search.
The "Results" column will now display which folders each item containing the site name is in.
Clicking on the email to display it will allow you to use the move button.
Mark it as read and turn off any flags (if you don't want to accumulate bunches of unread emails needing attention in the folders containing your filed materials).
Move the email to its proper folder ("My Website" in my example case).
I love the idea that I can just start to type in some part of the folder name in the last step above and Outlook finds it.
Hope this is helpful!