This article would apply to websites containing older code. Generally, the website was built some time back. It may use a theme and contain plugins that are no longer supported (haven't been updated in a while). The site would have had something along the lines of an Enable jQuery Migrate Helper plugin installed in it to compensate for the outdated plugin or theme software.
How to apply the fix
If you get a validation error for the date field of a Contact 7 Form, check the settings for the jQuery or jQuery migrate tools.
Within the WordPress dashboard go to Tools > jQuery Migrate > jQuery Version and set the version to Default from WordPress. Then click go Save Settings.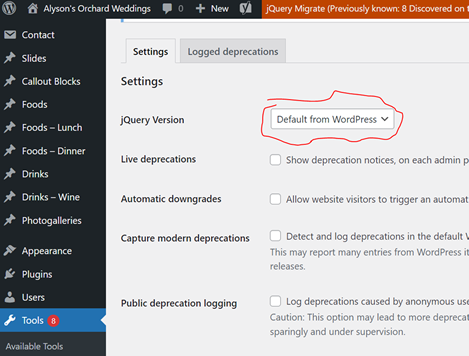 Next, go to plugins and deactivate the Contact Form 7 Datepicker plugin.

Now delete the Datepicker plugin that has been deactivated.
Checking the jQuery logs
Now check the jQuery logs in the Dashboard by navigating to Tools > jQuery Migrate.
Click on the Logged deprecations tab. This tab shows code deprecations that occur when older, outdated code (obsolete software) is being used that has not been updated to provide better functionality and/or security. The presented table should show all the code deprecations that were logged from the front-end of your site, or while live deprecation notices were disabled in the admin area. Any logged items listed will show the plugin and/or theme that these deprecations occurred in.
You should ensure that the latest version of these items are installed in your website. If there is no later version, it may be that the indicated theme or plugin has been abandoned. If that is the case, the most prudent direction is to find newer software.
In the case of plugins, you would look for a newer, updated plugin that can perform the same functionality needed that the obsolete one (containing the deprecated code) provided.
In the case of themes, you are definitely looking at redoing the website. Simply replacing an existing theme with another can radically alter how a site looks – and will more often than not break much of the functionality of a website. You should seek a good web developer (check out the information page on this at CharlesWorks) for such an upgrade. If you are pleased with the general design of your site, a good developer can generally retain much of the look. If not, then the site can simply be recreated with a new look using all up-to-date software. In any case, since most of your material (page and post content) will be able to be used in a site redo, the cost is usually a little less than starting from scratch in that regard.