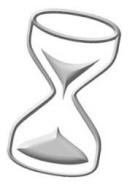 Ten seconds is what I have to get your attention.
When you browse the web, you are there for a purpose, looking for a particular service or for information. Typically, you do your search and land on an impressive, expensive looking site with beautiful graphics moving all about the page. The clock is ticking. "Come on, come on already!" you think to yourself. Before the page has had a chance to finish loading, you've hit that back arrow and moved on to another website.
Another scenario is that you've landed on a page with oodles of information! You've quickly scanned left to right, top to bottom. Oh, that looks interesting over there!" and in a blink of an eye, you've clicked on an ad, and you're off to another site.
Viewers are always subconsciously judging your website by its clarity, design, and detail.
Does the aesthetic design of the site relate your message to the reader, using appropriate colors, fonts, graphics, etc?
Is the content structured in a way that viewers can quickly (in less than 10 seconds) determine:
What is your website about?
How you can help them?
Is your site cluttered with ads or distracting movement, diluting the effectiveness of your message?
Whether you've designed it yourself or hired a web professional to design or redesign your website, it's a good idea to have someone unfamiliar with your website or your business sit down and perform a stress test.
Ten seconds is usually all you have to gain a viewer's trust and interest. Both design and the structure of your content are crucial elements in keeping a viewer on your site and turning them into a customer.
Happy Holidays to everyone!
Sincerely,
The CharlesWorks Team